Diplomatura en Fisioterapia, URV (2002).
Posgrado en Técnicas Específicas, Blanquerna (2003).
Posgrado en Fisioterapia Neurológica, Universidad Complutense (2007).
Máster universitario en Envejecimiento y Salud, URV (2012).
Grado en Fisioterapia, Universidad de Salamanca (2017).
Actualmente cursando el programa de doctorado en la URV.
Fisioterapeuta del CSS Monterols, Instituto Pere Mata (Reus). Profesora asociada de Fisioterapia en la URV.
"El Máster universitario en Envejecimiento y Salud te permite adquirir conocimientos globales del proceso de envejecimiento que son muy útiles si se trabaja en este campo y que ayudan a mejorar la calidad asistencial. También es muy positiva la introducción en el mundo de la investigación desde el punto de vista de la práctica diaria."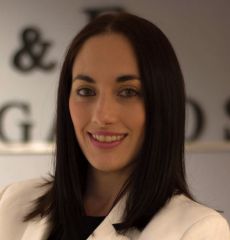 Diplomada en Turismo (URV) y Graduada en Derecho (URV).
Máster universitario en Abogacía (URV).
Estudiante del Máster universitario en Derecho de la Empresa y de la Contratación (URV).
Abogada en ejercicio en un despacho de abogados propio.
"Creo que al tratarse de un máster tanto teórico como práctico, es una antesala idónea para iniciarse en la profesión y para comenzar a tener contacto con futuros compañeros, juzgados, etc. Esto facilita mucho la transición de estudiante a profesional."
Marharyta Doronina
Ucrania
Purchasing Department, Ticnova.
"The Master's Degree in International Markets is a good experience on both a personal and professional level. The programme includes theoretical subjects and practical subjects in which the teaching staff share their professional experience. One very important aspect, which complements the professional development, are the internships that the master's degree offers. I had the opportunity to do my internship in a company which then offered me a permanent position, and I am very pleased with the nature of the work that I do there. On a personal level, both my teachers and classmates were very pleasant and helped me with any problems that I had, and this in turn helped me to adapt quickly and easily to living in a new country."
Víctor Sabaté Torreblanca
Spain
Consultant, Deloitte.
"It was an excellent decision to participate in the first edition of the Master's Degree in International Markets. I arrived with high expectations which were more than exceeded: a highly professional teaching staff who treated me with great warmth and as an individual. Our study group had people from many countries around the world and this enables you to learn about their backgrounds and cultures. In professional terms, it gave me the opportunity to undertake an internship and to complete my master's thesis in a multinational company, and this in turn opened up opportunities for me in the job market. It was a highly enriching experience in all senses."
Graduada en Educación Infantil (URV).
Máster interuniversitario en Tecnología Educativa: E-learning y Gestión del Conocimiento (URV).
Actualmente trabaja en el grupo de investigación ARGET de la URV como Técnica de Investigación.
"El máster me ha abierto un nuevo mundo de posibilidades en cuanto a formación y desarrollo personal, ya que gracias a él hoy me encuentro trabajando en un grupo de investigación consolidado con una beca de proyecto que me está ayudando a seguir con mi formación a través de un doctorado."
Graduada en Pedagogía (URV).
Máster interuniversitario en Tecnología Educativa: E-learning y Gestión del Conocimiento (URV).
Doctoranda, miembro del grupo de investigación de la URV.
"A nivel profesional me ha enriquecido el hecho de trabajar con alumnos de otros puntos geográficos, que de otro modo no habría sido posible. En la misma línea, considero muy positiva la oportunidad que brinda el máster para aprender de profesores de diversas universidades. Además, el hecho que no sea presencial implica el desarrollo de una mayor capacidad de organización y planificación."
Elena Deleyto La Cruz
Spain
Freelance producer and translator, Barcelona.
"I had been a translator for some five years but I couldn't use any technologies, and I needed to learn a vocabulary to talk about what I was doing. The Masters gave me both."
Lisa Mann
United States
Director of B2B Translation, Tarragona.
"I decided to change my career focus from teaching to translating and the MA in Translation at the URV was exactly what I needed to do just that. The program gave me the know-how and experience required to stand out from the rest in this increasingly competitive field."
Beverly Sackrider
United States
Marketplace Localization Specialist at Houzz, Berlin.
"The professors were very knowledgeable; I had a great experience with the classes, and I really enjoyed getting to know my classmates. I was very easily able to get a job teaching English at a private language school."
Alison Williams
United Kingdom
Community Engagement Manager at Avantida, Antwerp.
"A must-have for editors and proofreaders dealing with scientific or technical texts. I learned many editing techniques and was able to immediately put them to practice. My customers were thrilled at how smoothly I could bring clarity and simplicity to intricate constructions and obscure jargon. I would recommend it to anyone!"