International Master on Wine Tourism Innovation (WINTOUR) -
6th edition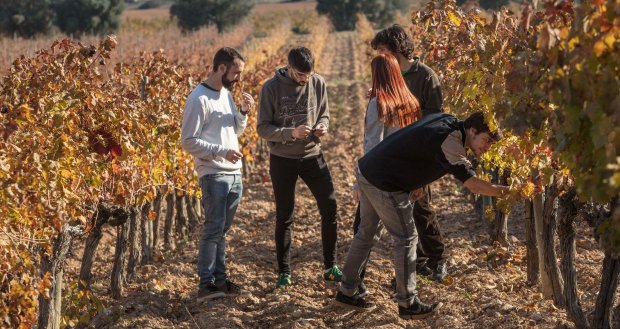 Duration

120 ECTS

Places available

25

Type

Face-to-face

Language of instruction

English

Course date

First semester: from mid-September 2023 to June 2024

Second semester: from September 2024 to June 2025

Academic coordinator

Dra. Gemma Beltran

URV Faculty

Fees

€4,500/year for programme-country students

€9,000/year for partner-country students

Country categories and more information.
The International Master on Wine Tourism Innovation (WINTOUR) offers a truly integrated study programme which combines the expertise in Tourism and Oenology of three universities and regions: Rovira i Virgili University (URV, Spain), University of Bordeaux (UB, France), and University of Porto (UP, Portugal). These universities are located in highly attractive touristic areas, recognised with the label of human heritage by UNESCO, and with a long tradition on wine, producing speciality wines, such as sparkling, fortified, aged red and sweet wines. The training programme is clearly multidisciplinary and also multisectorial.
The WINTOUR programme is aimed at preparing broadly trained and highly adaptable and qualified professionals in the tourism and wine industries in order to promote innovative wine tourism developments which will generate added value through the increased income and recognition of this sector. The programme covers the absence of a new profession that requires multidisciplinary and multi-sectorial knowledge and training, while increasing their understanding of wine making and tourism management. High-quality practical training in entrepreneurship and company management is provided by involving the students in internships in the non-academic sector.
The programme is structured in 120 ECTS divided in two years and 4 semesters. The first 3 semesters are taught each in one University (URV, UB and finally UP), and the last semester is devoted to the final internship which is developed in one of the associated partners' facilities, mostly from the non-academic sector. Thus, students have a common track of 90 ECTS, and a final professional Internship for the development of the Master Thesis of 30 ECTS, where students have to develop a project related to the skills acquired.
The teaching programme includes modules on Wine Tourism and Marketing, Wine Making (mostly focused on sparkling, aged, sweet and fortified wines), Wine heritage, and three different types of internships (on winemaking, marketing, and oenotourism), with the active participation of the non-academic partners in the student training.

There are no places available for the academic year 2023-24.
Participating universities
Universitat Rovira i Virgili (Spain) (coordinating university)
Université de Bordeaux (France)
Universidade do Porto (Portugal)
Collaborating Institutions
Freixenet, Codorniu, Bodegas Miguel Torres, COVIDES, Priorat Enoturisme, Gran Cruz Porto, Lavradores da Feitoria, Cité des Civilizations du Vin, Conseil Interprofessionnel du Vin de Bordeaux (CIVB), Universidad de La Rioja, Aristotle University of Thessaloniki, Università di Padova, Università di Torino, Instituto Nacional de Investigaçao Agrária e Vetérinaria, I.P. (INIAV), Science and Technology Park of Tourism and Leisure (PCT) and Technology Park of Wine (VITEC)
---