Jakub Domagalski
---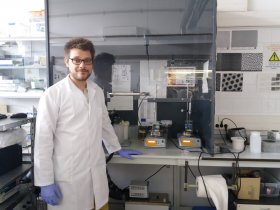 PhD Programme
Technologies for Nanosystems, Bioengineering and Energy
Research group
NEPHOSYS - Nanoelectronic and Photonic Systems
Supervisors
Lluís Marsal Garví & Elisabet Xifré Pérez
Bio
Jakub Tomasz Domagalski holds MSc degree from Technical University Of Lodz, Poland in Nanotechnology (2011-2016). During this period, he participated in R&D project at University Twente, MESA+ Institute (Netherlands) where he was working on development of single-chain polymer nanoparticles. After defending his thesis, he undertook researcher internship at Unilever R&D department for 3 months, working on optimalization of core formulae for liquid food products.
Project: Biomedical and sensor nanostructures based on nanoporous anodic alumina
The main objectives of his research project are: 1) the development of various nanoporous structures made of aluminum oxide using different anodization conditions; 2) the fabrication of polymer and composite metal-polymer nanostructures via template-assisted deposition for sensor and biomedical applications; and 3) the fabrication of alumina-based or composite nanotubes for potential biomedical applications.