Ignacio Sánchez Vergara
---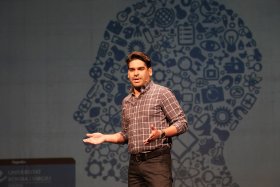 PhD Programme
Economics and Business
Research group
ASO – Social and Organizational Analylis
Supervisors
Eleni Papaoikonomou & Matías Ginieis Iribarren
Bio
José Ignacio Sánchez Vergara holds a Bachelor degree in Public Relations and Communications (Cum Laude) from University of Zulia (Venezuela). Interested in Management, after his bachelor, he took a programme in Entrepreneurship, provided by the Institute of Higher Education and Administration (IESA) in Caracas, Venezuela. He holds a Master's degree in Strategic Communication at Risk Society from Universitat Rovira i Virgili (2015). Since then, he began to investigate in the field of strategies for the city-marketing. This work motivated him to continue in the same university as a PhD student in the Department of Economics and Business (in the area of Marketing) where he is investigating about sharing cities and their potential values as place brands and their urban imaginaries. Also, he has been an architect and associate professor at the University of Zulia, since 2008.
Project: New consumption in the era of collaborative economy
According to recent consulting reports (PwC, 2014) and academic studies (Plouffe, 2008; Scaraboto, 2015), the importance of collaborative economy is rapidly increasing. Much of the attention has been placed on generally defining the differences between traditional markets and the new collaborative consumer-to-consumer markets (EU Business Innovation Observatory, 2013). These new or transformed markets could be thought as a form of co-creation giving rise to "collaborative capitalism" (Cova, Dalli, & Zwick, 2011). Nevertheless, more research is required in this field. First, more emphasis should be placed in order to understand the double role of users as consumers/producers in collaborative consumption networks, a key characteristic of these new markets. Second, it is of interest to observe the evolution of these newly created markets over time, the interplay of different institutional actors, the macro and micro discourses created and sustained (or not) over time.
The main objectives of this research projects are:
1) To study communities of users of, both for profit and nonprofit, collaborative consumption initiatives. The PhD study focuses on the collective level (ritual, collective practices etc.) and the individual level (motivations, narratives, experiences) of users' participation taking into account their double role as providers and consumers.
2) To examine collaborative market dynamics of both for profit and nonprofit ventures. The PhD study focuses on how collaborative markets change over time by exploring the interplay of different actors and the discourses employed in these markets.
The geographical scope of the PhD should involve the study of collaborative markets in the European Union, but the PhD candidate should also demonstrate capacity to compare the EU market with other markets around the world. Different methodologies are welcomed and data recollection techniques may involve both qualitative and quantitative data.