Reyda Akdemir
---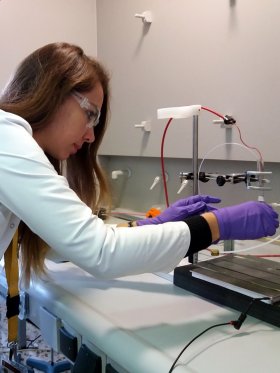 PhD Programme
Nanoscience, Materials and Chemical Engineering
Research group
Supervisor
Joan Rosell-Llompart
Bio
Reyda Akdemir obtained her bachelor's degree in Material Science & Engineering from Marmara University in Istanbul. During the undergraduate study, she had a chance to pass her erasmus year at Technische Hochschule Ingolstadt in Germany. She mainly focused on mechanical and corrosion properties of biomedical alloys which produced by powder metallurgy technologies. Then, she obtained her Master's degree in Nanoscience, Materials and Processes from University Rovira i Virgili. Her master thesis was about bioactive coating on biomedical grade alloy by electrospinning and characterizations.
Project: Electrostatic fields based printing of nano- and bio-structures
In her PhD project, Reyda develops methods for the printing of 1D, 2D and 3D nanostructures from liquids by means of electrostatic fields. A well-known example of a 2D non-electrostatics printing method is ink-jet printing. In her project however, the fragmentation of the liquid ink will be carried out to a much finer length scale thanks to the use of electrostatics. Electrostatic fields provide the driving force of our process. To make extremely small feature scales, one must overcome surface tension forces. This challenge can be overcome by means of electrical fields.