Pre-award support
---
Come at the URV
To build your research future together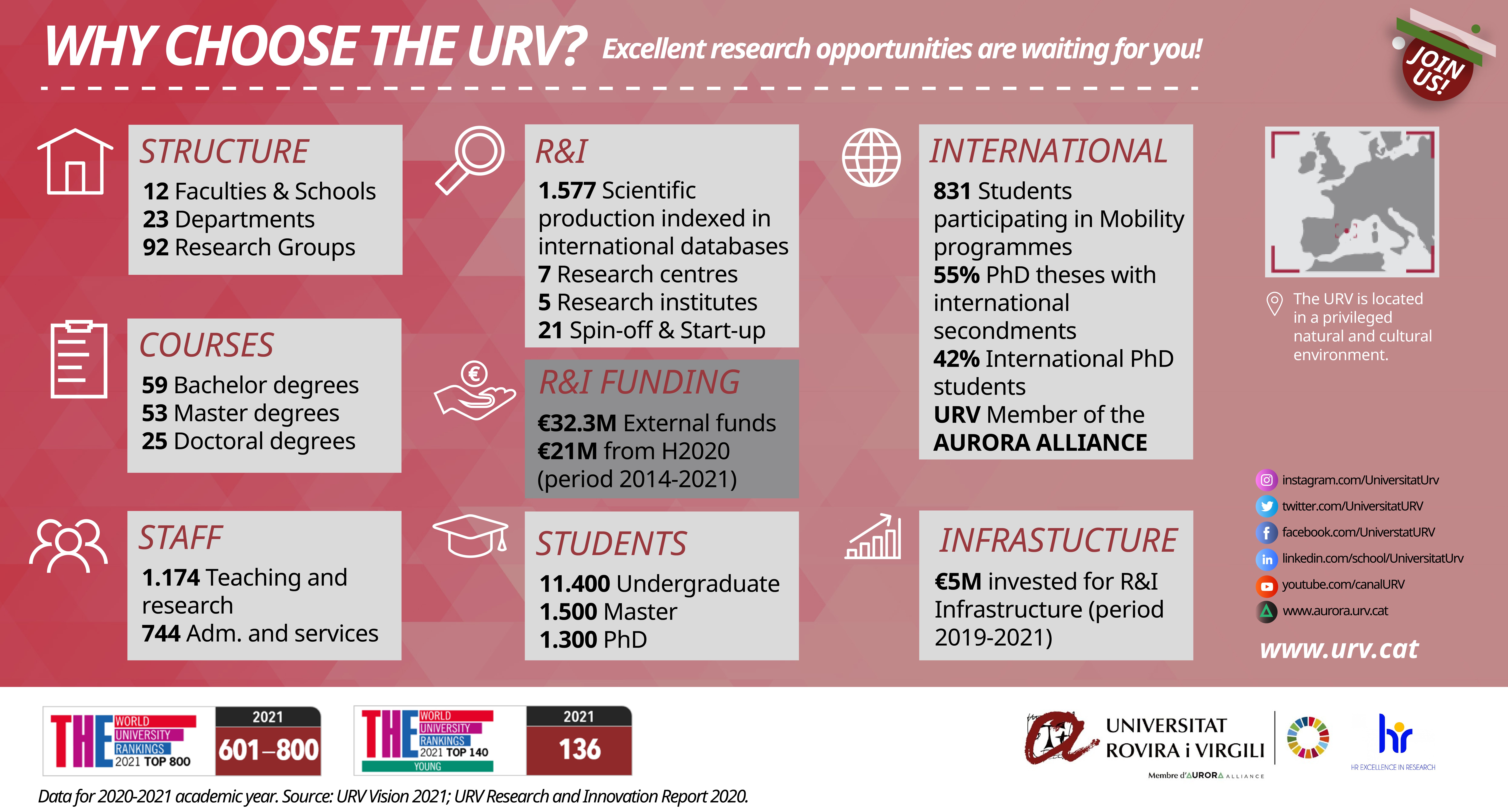 Excellent research opportunities are waiting for you
The Universitat Rovira i Virgili (URV) is made up of 12 Faculties and Schools, with 23 Departments, which welcome annually 11.400 undergraduate, 1.500 master and 1.300 PhD students (20% of them full time employees). And furthermore...
2 Innovation centres: AMIC and TECNATOX
2 Technology centres: VITEC and EURECAT
Research Infrastructures: 5 Milion € invested in last 3 years for Microscopy and Bio Chemical Research Infrastructure
Live your experience at our university, developing your talent
The URV is a modern public higher education institution with a proud and widely recognized track record in providing teaching and research. It is a university with a strong commitment to find solutions to the challenges facing society through the generation of knowledge and the provision of education that produces highly trained and discerning professionals and citizens.
Highly devoted to regional development and the promotion of activities which benefit the socioeconomic environment, the URV works in partnership with companies, research institutes, innovation centers and hospitals to achieve an interaction that can benefit doctoral research and the whole of society.
Outstanding national and international positioning
URV is well positioned both nationally and internationally due to the Excellence of its research and the commitment and internationally recognised staff.
Other useful information
HR Excellence in Research
The European Commission wants to achieve a labour market that is open and transparent for researchers. To this end it has adopted a European Charter for Researchers and a Code of Conduct for the Recruitment of Researchers. The Universitat Rovira i Virgili endorses the basic assumptions of the charter and the code.
The URV is located in a privileged natural and cultural environment
The URV is based in the province of Tarragona on the Mediterranean coast and surrounded by areas of great natural beauty: the Costa Daurada (the Golden Coast), the Terres de l'Ebre, the Priorat, etc.
It is located in a unique environment, with a great variety of cultural and artistic heritage. Its privileged situation with excellent connections and mobility, further enriches its possibilities.
We are aware that working and living in a foreign country is always a challenge, but we are sure that at the URV it will be a challenge that you will rise to with ease. Find out all you need to know to feel at home from the very first day.