Jananee Muralidharan
---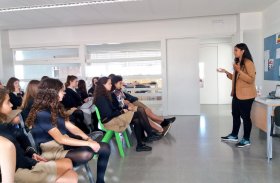 PhD Programme
Nutrition and Metabolism
Research Group
NUTRCRSM - Alimentació, Nutrició, Creixement i Salut Mental
Supervisor
Jordi Salas-Salvadó & Mònica Bulló Bonet
Bio
Jananee Muralidharan has an Engineering degree in Industrial Biotechnology (India) and a Master's degree in Food technology and nutrition (Sweden). She has been an Erasmus intern at University of Copehagen during her Masters degree. She also has a brief work experience in the food industry to develop products for better health benefits. With her PhD, she would like to continue in the field of developing healthy, tasty and sustainable foods for the future.
Project: Effect of Mediterranean diet on gut microbiota
Gut microbiota as an important therapeutic target for the prevention and treatment of different metabolic related diseases have been emerging. Growing evidences have suggested diet and physical activity have the potential to alter the gut microbiota to induce positive changes on health. Understanding the changes in gut microbiota with an intervention combining Mediterranean diet and physical activity in older adults could give potential avenues to treat metabolic diseases. This PhD project is part of a broader research project, coordinated by the URV: PREDIMED Plus.