Pre-award support
---
Marie Skłodowska-Curie Staff Exchanges (MSCA-SE)
The MSCA Staff Exchanges call funds short-term exchanges of staff among academic, industrial and commercial organisations worldwide
This call funds short-term international and inter-sectoral exchanges of staff members involved in research and innovation activities of participating organisations. The aim is to develop sustainable collaborative projects between different organisations from the academic and non-academic sectors (in particular SMEs), based in Europe and beyond. Exchanged staff benefit from new knowledge, skills and career development perspectives, while participating organisations increase their research and innovation capacities.
If you have any question, do not hesitate to contact us!(ELIMINAR)
About URV
Universitat Rovira i Virgili (URV) is well positioned both nationally and internationally due to the Excellence of its research and the commitment and internationally recognised staff. URV is made up of 12 Faculties and Schools, with 24 Departments, which welcome annually 12,.000 undergraduate, 2,000 master and 1,200 PhD students (20% of them full time employees). URV has developed a successful model of balanced research and training dedication, which has placed it among the first five Spanish universities in terms of research outputs according to several domestic classifications, and derived in its international recognition in several rankings; for instance, it ranks 136th in 2021 Young World University Times Higher Education ranking.
Testament to the quality of its research is the fact that URV is host for around 100 MSCA fellows, in different programmes (COFUND, ITN, IF), displaying a strong bond to the principles of the MSCA programme in H2020.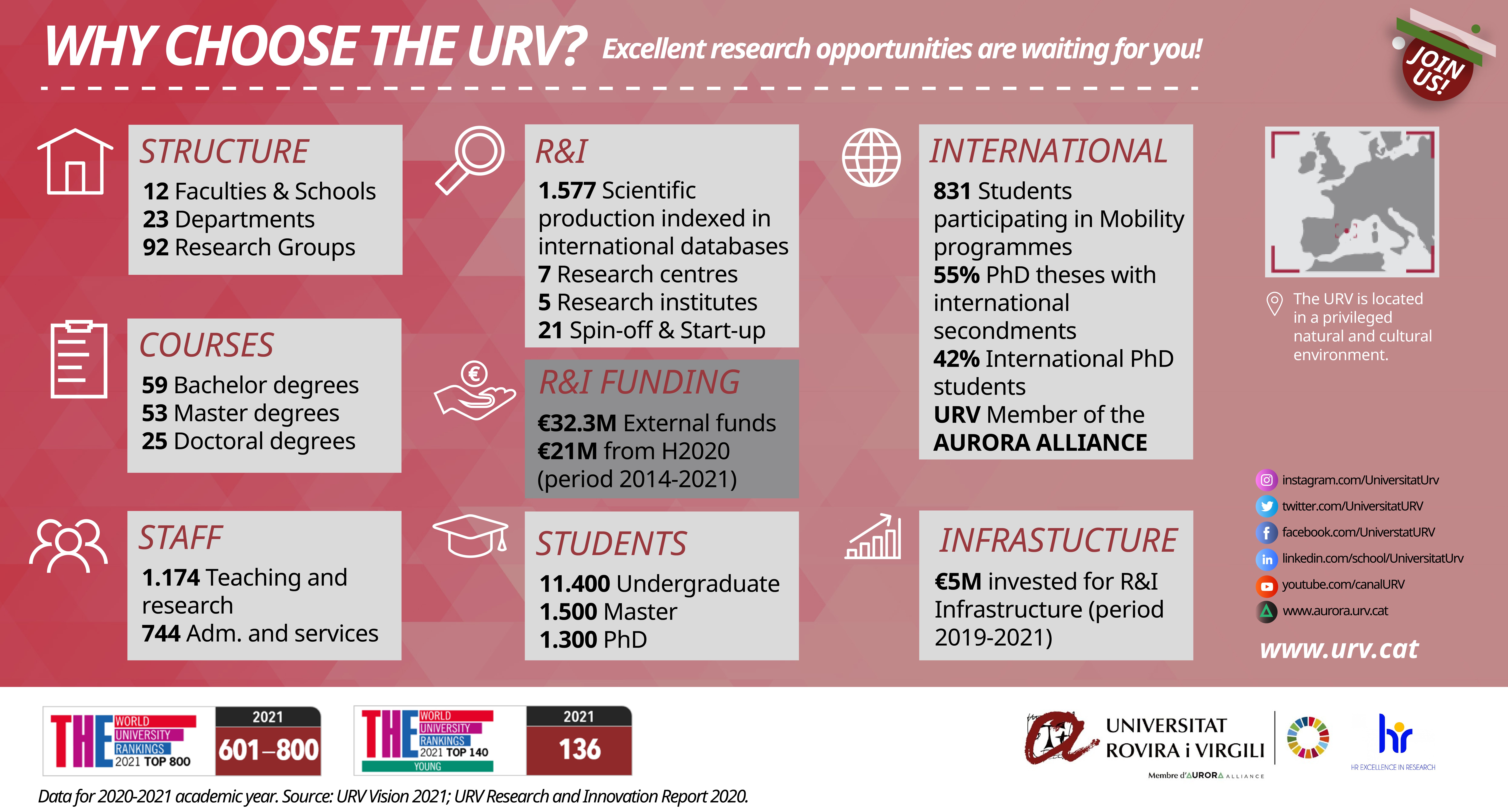 About MSCA-SE
Staff Exchanges projects can last up to four years. The grant funds the mobility of seconded staff members from one month to one year. Staff involved should return to their sending organisations after the secondment, to pass on their knowledge.
Staff exchanges between organisations in EU Member States or Horizon Europe Associated Countries are required to be between different sectors (academic or non-academic), except if they are interdisciplinary. For partnerships with non-associated Third Countries, exchanges within the same sector and the same discipline are allowed.
Staff funded by Staff Exchanges
Can be researchers at any career stage, from PhD candidates to postdoctoral researchers, as well as administrative, technical or managerial staff involved in research and innovation activities
Can be of any nationality
Must be engaged in, or linked to, research and innovation activities at their sending organisation for at least one month prior to the secondment
Should return to their sending organisation after the secondment, to pass on their knowledge and foster collaboration
Seconded staff receives
A top-up allowance (for travel, accommodation, subsistence costs), which is on top of the salary paid by their organisation
A special needs allowance, if applicable
In addition, funding is provided for
Research, training and networking activities
Management and indirect costs
Eligibility conditions
Staff Exchanges are open to international consortia of universities, research institutions, businesses, SMEs and other non-academic organisations. They need to include:
At least three organisations in three different countries, two of which need to be located in a different EU Member State or Horizon Europe Associated Country
Above this minimum, the participation of organisations from any country is possible
If all participating organisations are from the same sector (academic or non-academic), at least one must be from a non-associated Third Country
Individual staff members are selected by their sending organisations to take part in the planned exchanges.
USPIR support
USPIR will offer full support for the preparation of the proposals, in order to increase the chances of a successful bid. This support is structured in 3 main activities:
Search for partners and the consortium.
Organization of workshops.
Proposal writing: from the concept to the full proposal writing, USPIR pre-award officers will dedicate their effort towards helping you present better-targeted proposals.