Pre-award support
---
Marie Skłodowska-Curie Doctoral Networks (MSCA-DN)
The MSCA Doctoral Networks will raise the attractiveness and excellence of doctoral training in Europe
MSCA Doctoral Networks will implement doctoral programmes, by partnerships of universities, research institutions and research infrastructures, businesses including SMEs, and other socio-economic actors from different countries across Europe and beyond.
If you have any question, do not hesitate to contact us!(ELIMINAR)
About URV
Universitat Rovira i Virgili (URV) is well positioned both nationally and internationally due to the Excellence of its research and the commitment and internationally recognised staff. URV is made up of 12 Faculties and Schools, with 24 Departments, which welcome annually 11.400 undergraduate, 1.500 master and 1.300 PhD students (20% of them full time employees). In 2019, it was named World's 78th Best Young University aged less than 50 years and 401-500 Best University in the World (by Times Higher Education World University Rankings), and in 2021, 501-600 by Academic Ranking of world Universities. Being the within the top 10% universities in number and impact of its publications is a clear measure of the quality of the research we can offer to the future MSCA-DN fellows.
Testament to the quality of its research is the fact that URV is host for around 100 MSCA fellows, in different programmes (COFUND, ITN, IF), displaying a strong bond to the principles of the MSCA programme in H2020.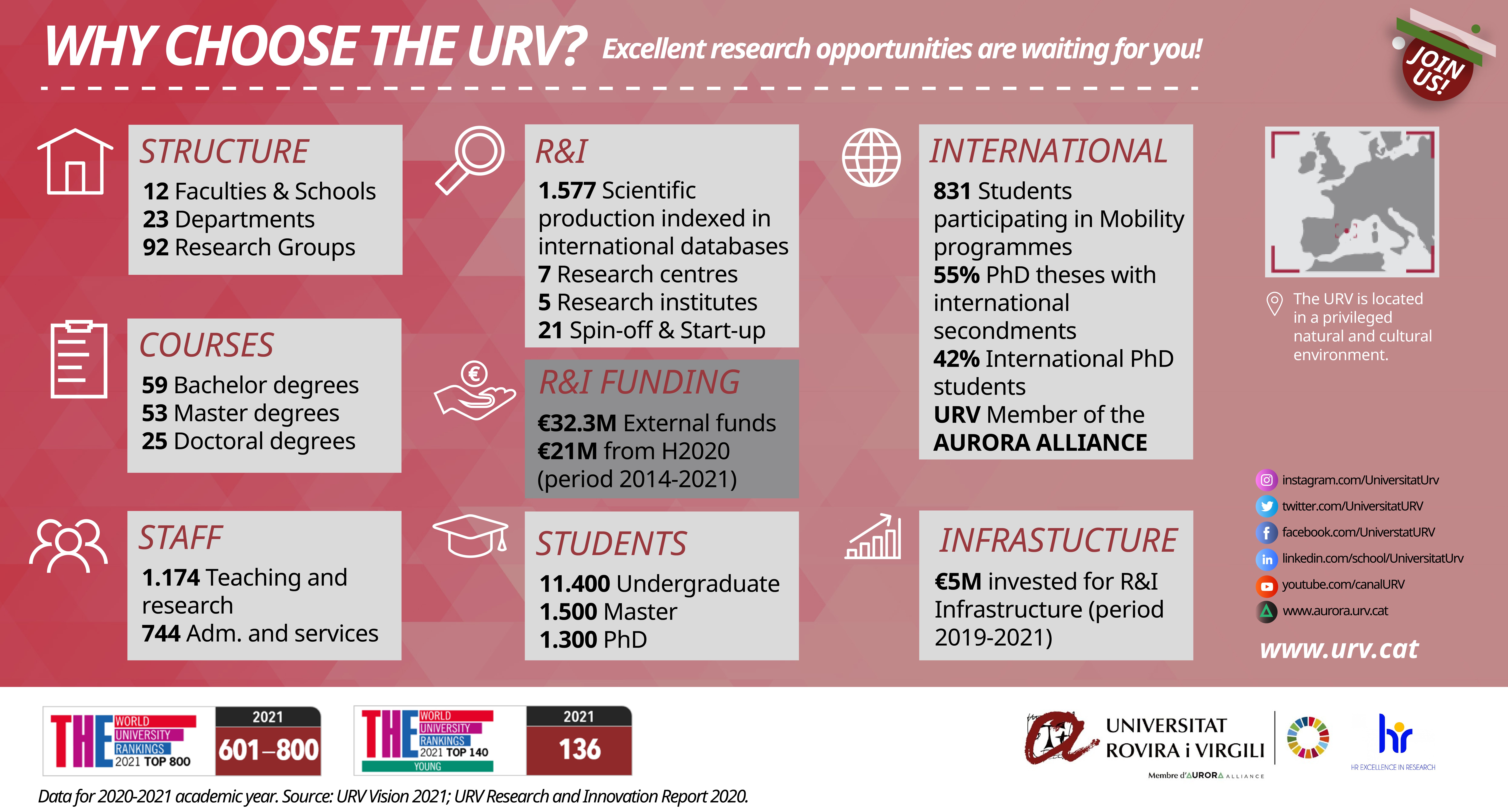 About MSCA-DN
Marie Skłodowska-Curie Doctoral Networks (DN) aim to train creative, entrepreneurial, innovative and resilient doctoral candidates, able to face current and future challenges and to convert knowledge and ideas into products and services for economic and social benefit.
They will equip researchers with the right combination of research-related and transferable competences and provide them with enhanced career perspectives in both the academic and non-academic sectors through international, interdisciplinary and inter-sectoral mobility combined with an innovation-oriented mind-set.
The MSCA Doctoral Networks set up doctoral training in Europe and are encouraged to lead to Industrial or Joint Doctorates.
INDUSTRIAL DOCTORATES
Through Industrial Doctorates (ID), doctoral candidates will step outside academia and develop skills in industry and business by being jointly supervised by academic and non-academic organisations, both of which can be established in the same EU Member State or Horizon Europe Associated Country. Doctoral candidates must spend 50% of their fellowship duration in each sector.
Inter-sectoral mobility in ID possible between entities in the same country (novelty from 2021 call).
JOINT DOCTORATES
Joint Doctorates (JD) represent a highly integrated type of international, inter-sectoral and multi/interdisciplinary collaboration in doctoral training. They lead to the delivery of joint, double or multiple doctoral degrees recognised in at least one EU Member State or Horizon Europe Associated Countries. Joint Doctorates must set up a joint governance structure with joint admission, selection, supervision, monitoring and assessment procedures.
Supervision
Particular attention is paid to the quality of supervision and mentoring arrangements as well as career guidance. Joint supervision of the researchers is mandatory for Industrial and Joint Doctorates.
Career Development Plan
A Career Development Plan must be established jointly by the supervisor and each recruited doctoral candidate. In case of joint supervision, such a plan should be established involving all supervisors. In addition to research objectives, this plan comprises the researcher's training and career needs.
Size
The overall EU contribution for MSCA Doctoral Networks actions is limited to a maximum of 360 person-months + 180 additional person-months for Joint or Industrial doctorates (incentive).
Financial Support
Contributions for recruited researchers (per person-month)
Living allowance
Mobility allowance
Family allowance (if applicable)
Long-term leave allowance (if applicable)
Special needs allowance (if applicable)
€ 3.400
€ 600
€ 660
€ 4.000 x % covered by the beneficiary
requested unit x (1/number of months)
Institutional unit contributions (per person-month)
Research, training and networking contribution
Management and indirect contribution
€ 1.600
€ 1.200
* The long-term leave allowance contributes to the personnel costs incurred by the beneficiaries in case of the researchers' leave, including maternity, paternity, parental, sick or special leave, longer than 30 consecutive days.
* The special needs allowance contributes to the additional costs for the acquisition of special needs items and services for researchers with disabilities, whose long-term physical, mental, intellectual or sensory impairments are certified by a competent national authority, and of such nature that their participation in the action may not be possible without them (e.g. assistance by third persons, adaptation of work environment, additional travel/transportation costs).
Eligibility conditions
Resubmissions: Proposals submitted to the previous call of MSCA Doctoral Networks under Horizon Europe and having received a score of less than 80% must not be resubmitted the following year.
Participating organisations
a consortium including at least three independent legal entities, each established in a different EU Member State or Horizon Europe Associated Country and with at least one of them established in an EU Member State,
not more than 40.0% of the EU contribution may be allocated to beneficiaries in the same country,
all beneficiaries must recruit at least one doctoral candidate
Join doctorates: at least three independent legal entities must be entitled to award doctoral degrees. At least two of the institutions conferring a joint, double or multiple doctoral degree must be established in an EU Member State and/or Horizon Europe Associated Country.
Industrial Doctorates: at least one of the three independent legal entities must be from the academic sector and at least one must come from the non-academic sector.
all beneficiaries must recruit at least one doctoral candidate: recruitment rule.
Recruited researchers
must be doctoral candidates
must be enrolled in a doctoral programme leading to the award of a doctoral degree in at least one EU Member State or Horizon Europe Associated Country, and for Joint Doctorates in at least two, (novelty from 2021 call),
can be of any nationality,
must comply with the following mobility rule: must not have resided or carried out their main activity (work, studies, etc.) in the country of the recruiting beneficiary for more than 12 months in the 36 months immediately before their recruitment date
Duration of the action
Programme: must not exceed 48 months from the starting date (set out in the grant agreement)
Fellowship: (on the basis of full-time employment) is minimum 3 and maximum 36 months
Secondments: are eligible for up to 1/3 of the fellowship duration
USPIR support
USPIR will offer full support for the preparation of the proposals, in order to increase the chances of a successful bid. This support is structured in 2 main activities:
Support service to find partners and build the consortia.
Proposal writing: from the concept to the full proposal writing, USPIR pre-award officers will dedicate their effort towards helping you present better-targeted proposals.