化学研究 - Chemistry
教学信息 - Teaching information

Night view of the campus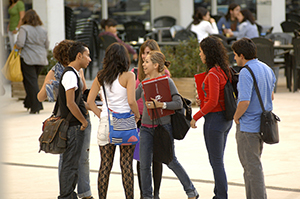 International students in the campus
语言:所有课程均以英语教学。
课堂方式:讲课, 案例研究, 讲习班, 研讨会, 在企业及工程项目中实习。
最终成绩: 包括综合性能, 如考勤, 课堂参与, 作业(包括个人和团队)和考试 (期中及期末)。
体制:每个课程都有一定的学分数。学分的多少取决于学完这门课程需要的工作量。一个学分相当于学生学习25个小时 (在课堂上, 实验室, 图书馆或在家)。大约25个小时中的10个小时, 无论是在教室或是实验室, 学生必须参加由教师讲授的课程。
化学系由75位教授组成。我们的专业人员的教学使命感保证了教学内容不断更新, 并通过最先进的学习技术来教授。每个学生都有自己的导师来指导学术研究。足够多的实验室可在任何时候保证每个实验室只有少数几个学生使用, 以便独立专注。
The library
化学系也参与了国际交流项目。此项目让学生在其他大学或公司学习一段时间
一个化学学位为未来职业开启了宽广而多样的行业大门, 如石油化工、食品、医药、能源, 环境, 化妆品或研究及教学等等。本科学习结束后, 你可以继续在诺维拉•维尔吉利大学攻读世界各地都认可的硕士或博士学位。
Language: All the courses are taught in English.
Class styles: lectures, case studies, workshops, seminars, internship in companies and projects.
Final grades: will include overall performance such as attendance, participation, assignments (both individual and group) and exams (middle and final).
System: Each course consists of a specific amount of credits depending on the amount of work that needs to be done by the student. One credit is equivalent to 25 hours of student work (in class, laboratories, library or at home). Approximately, 10 out of the 25 hours are devoted to attend classes lectured by the teacher, whether in the classroom or in laboratories.
The Faculty staff consists of 75 professors. The teaching vocation of our professionals guarantees that the subjects we teach are constantly being brought up to date and taught with the most advanced learning technologies. Each student has a personal academic tutor who guides its academic progress. The small number of students using a laboratory at any one time also makes individual attention possible.
The Faculty of Chemistry also takes part in international mobility programs, which enable students to spend stays at other universities or companies.
A degree in Chemistry throws open the door to a wide and diverse professional future in sectors such as petrochemicals, food, pharmaceuticals, energy, the environment, cosmetics or research and teaching, among others. After finishing your bachelor's degree, you can continue studying at the Rovira i Virgili University for an MSc or a PhD recognized the world over.