DOW/URV Chair of Sustainable Development - Outstanding Events
---
Dow's World Solidarity Run for Sustainable Potable Water Supply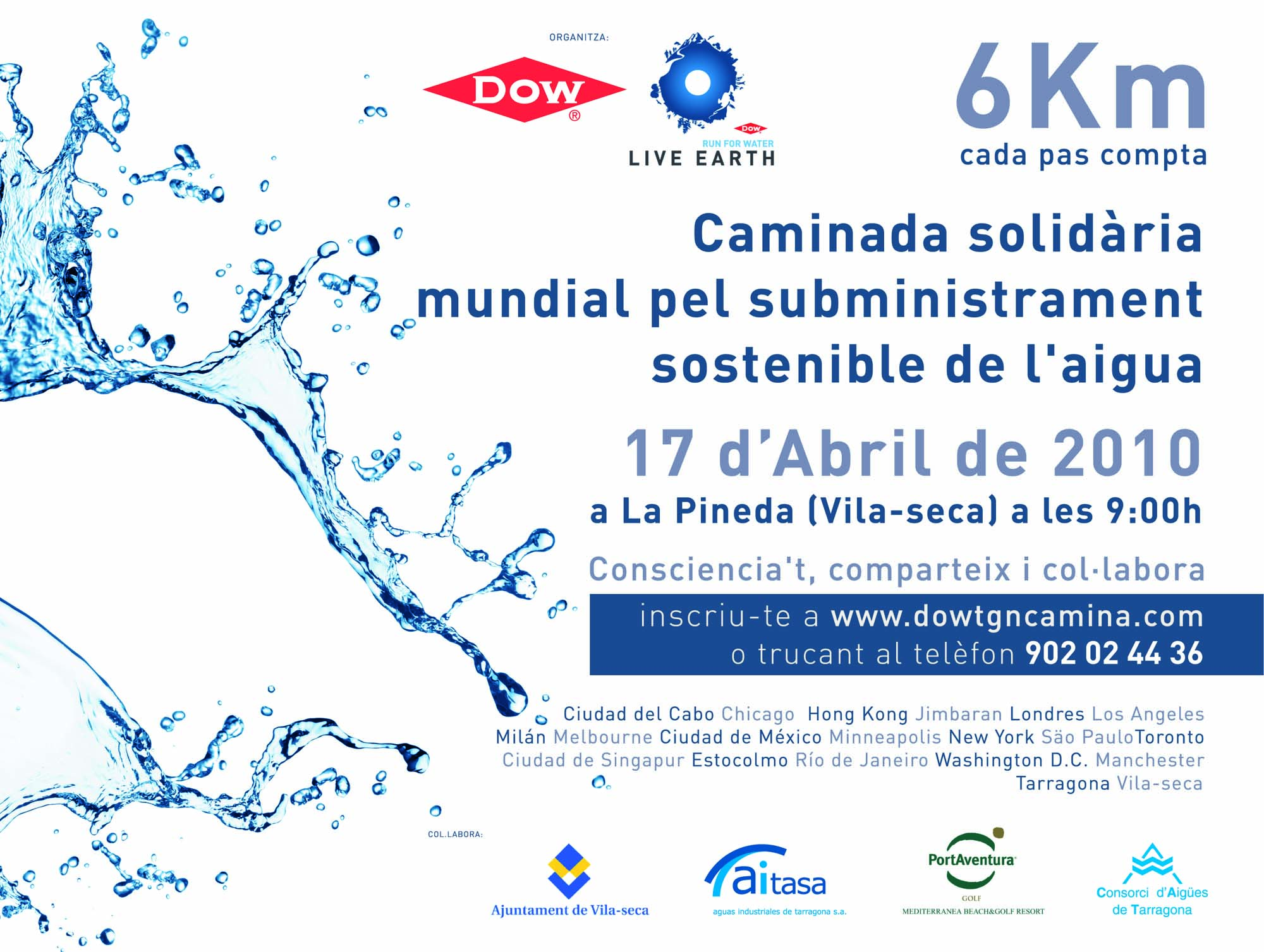 Dow Chemical Ibérica has presented the "Dow Live Earth Run for Water" campaign, aimed to raise society's consciousness and also to raise money for overcoming the water crisis.
In Tarragona, Dow Chemical Ibérica has organized a 6 km run on April 17th, at the Pinar beach, Vila-seca. The activity, named "Be conscious, Share and Collaborate: World Solidarity Run for Sustainable Potable Water Supply", is intended to anyone who wishes to participate in a world solidarity action and also wants to enjoy a healthy walk at the Tarragona's Mediterranean coastline. The participants will meet at 9 AM, and the run will begin an hour later.
Our Planet is facing a global water crisis, since almost one thousand million people do not have clean and safe potable water. What is more, according to recent studies, in 2025, 2/3 of the population will live in regions affected by water shortage.
The 6 km route symbolizes the average distance that many women and children have to walk to obtain potable water. For this reason, a circuit has been planned to allow the participants to see different types of landscapes and lands and to enjoy the landscape variety of the area. Therefore, the run will begin at Pinar Beach and it will continue through the Pinar del Perruquet, the seaport area, the golfcourse natural area of Port Aventura and finally the Pineda urban area.
There are three ways to register: you can enter www.dowtgncamina.com webpage, you can write to mseropagan@dow.com Email or you can call 902.02.44.36 telephone number.
Josep Boronat
Public Affairs & General Services (Tarragona)
Phone: 34977559347 / 629770115
Fax: 34977559381
E-mail: jboronat@dow.com
"Outstanding stakeholder relationships enable Dow's success."