Miguel A. Torres Riera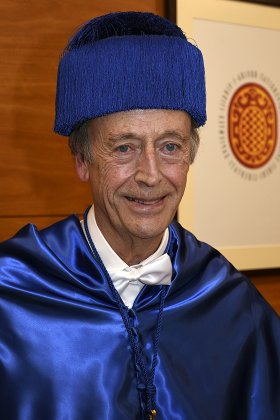 Date of investiture:

21 October 2016

Sponsor:

Joan Miquel Canals

Area of knowledge:

Oenology
Miguel A. Torres is a leading businessman in the world of viniculture. He studied Oenology at the French university of Dijon before joining the family business, Bodegas Torres, as a member of the fourth generation. In 1963, he was the technical director, and in 1991 he was appointed president and chief executive officer. At present, his children run the company and he is responsible for environmental issues.
The sponsor, the lecturer and dean of the Faculty of Oenology, Joan Miquel Canals, stressed that Miguel A. Torres' main achievement has been to build up a multinational company with criteria totally different from that prevailing in Spain in the 1970s, in which the wine trade was governed by the variable of price. Torres, on the other hand, has always been committed to research, innovation and marketing. It has produced wines that are known the world over, such as "Mas La Plana", "Coronas", "Gran Coronas", or "Milmanda".
The Bodegas Torres philosophy can be summed up in nine key points. The first of these is people, followed by ecology, fair trade, social responsibility, innovation, internationalisation, marketing, family and, finally, the great family of wine.
An expert in climate change, in his acceptance speech Miguel A. Torres gave a detailed explanation of the evolution of the climate from Prehistory through to the 20th century and the confirmation of global warming and the greenhouse effect. For Miguel A. Torres, despite some positive international agreements, the current assessment is pessimistic for the existing economic structures and because society is not convinced that a change of lifestyle is urgently needed.