Josep M. Recasens i Comes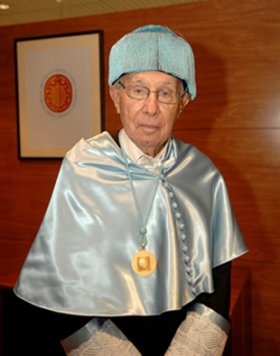 Date of investiture:

16 February 2011

Sponsor:

Lluís Navarro

Area of knowledge:

History
Josep Mª Recasens i Comes was born in Tarragona in 1918. When his education was interrupted by the Civil War and the post-war period he taught himself using the works of researchers from the so-called Annales School, and leading historians who continued the new approach to constructing and interpreting historical studies such as Jaume Vicens Vives and Pierre Vilar, among others.
He has made a considerable contribution to history, particularly to the local history of Tarragona, and he has a vocation for the past, and particularly for the historical and artistic heritage of this city.
He was the first mayor of Tarragona after democracy had been restored - a post he occupied from 1978 to 1989 - and he strived to conserve the archaeological heritage of the city by setting up the City History Museum, the Municipal Periodicals Library and the Archaeology School Workshop (TED'A). He also worked to recover the archaeological heritage of Tàrraco by, for example, restoring the Roman Circus.
He has been awarded several prizes for his historical research: two medals (Antoni Agustí and Cronista Josep M. Pujol) and the Regional Council's Tarragonés Research Prize. In 2009 he was named Tarragona's Favourite Son.
In his acceptance speech he spoke of the Noucentista cultural movement, the historiography of that period and the ways in which it has marked Tarragona.