Gayatri Chakravorty Spivak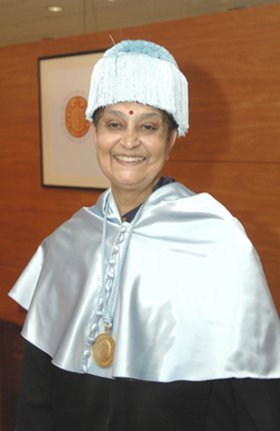 Date of investiture:

13 May 2011

Sponsors:

Liz Russell and Anthony Pim

Area of knowledge:

Literature
The lecturer Liz Russell pointed out in her address during the conferment ceremony that Gayatri Spivak has a commitment to world politics that seeks responsibility based on ethics. Along these lines, she has written about ecological injustice, electronic capitalism, fanatical terrorists and also on friendship and responsibility, among many other issues.
In her acceptance speech, entitled Gender and Translation in the global utopia, she spoke of her mother because the ceremony coincided with the eighth anniversary of her death. She remembered her as "an intellectual in her own right", an educator who at the age of 24 did a master's degree in India in 1937. Likewise, she mentioned that her father, a civil surgeon with the British, was ostracised because he refused to provide false evidence in favour of the aggressor in a case of rape.
Gayatri Spivak also spoke of her first visit to Catalonia. In 1963 she went to Les Cases d'Alcanar, where she read the book Homage to Catalonia by George Orwell, when Catalan was still banned. She was well aware of the energy invested in the struggle for the country's language and the need for texts to be translated.
The rector, Francesc Xavier Grau, pointed out that Gayatri Spivak's work on comparative literature and East-West relations focused on India and the United States has made substantial theoretical contributions to current thought.
Gayatri Spivak took advantage of her stay in Tarragona to take part in the 5th International Congress on New Investigations in Translation and Interpreting Studies, which was held between 12 and 14 May 2011 at the URV.