Ramon Gomis i de Barbarà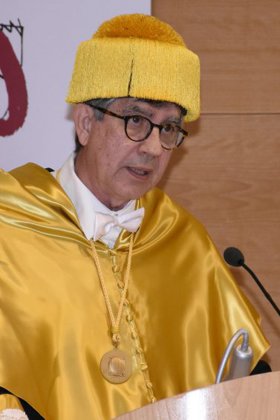 Date of investiture:

31 March 2017

Sponsor:

Ramon Maria Miralles

Area of knowledge:

Medicine
The endocrinologist Ramon Gomis de Barberà was awarded an honorary degree for his contribution to biomedical research, in particular in the fields of diabetes, obesity and nutrition.
Ramon Gomis, who was born and brought up in Reus, said that this award is "very special" because of his relationship with the University's lecturers and the local region. In fact he has worked with the Universitat Rovira i Virgili as a scientist and a manager of biomedical science.
Gomis de Barberà is now professor of medicine at the University of Barcelona, director of the August Pi i Sunyer Institute for Biomedical Research (IDIBAPS) (since 2004) and senior consultant in endocrinology at the Hospital Clínic in Barcelona. In his acceptance speech, Gomis said that he decided to specialise in the field of endocrinology because "scientific biomedical research was, and is, the only tool that can give use the answers we need to make headway in the prevention and cure of disease".
In his address, Professor Ramon Maria Miralles, sponsor of the honorary degree candidate, made particular mention of his activity in literature and theatre. He has written eight plays, some of which have been performed at the Teatre Lliure and the Teatre Romea in Barcelona, and the Teatre Fortuny in Reus, among other places. His first three works were set in the Camp de Tarragona and were written in the style of critical realism. He has also written prose, travel pieces and biographies, such as the biography of the young Reus poet Gabriel Ferrater.