Despoina Schina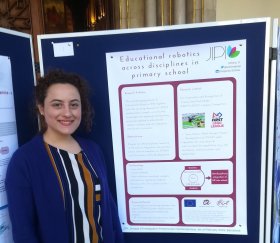 PhD Programme
Educational Technology
Supervisor
Mercè Gisbert
Bio
Despoina Schina holds a Bachelor's degree in English language and Literature from Aristotle University of Thessaloniki (Greece) and a Master's in Educational Technology from the University of Rovira and Virgili. She is now a PhD student at the University of Rovira and Virgili and a member of the research group ARGET - Applied Research Group in Education and Technology. Despoina has working experience in teaching English as a foreign language and educational robotics in primary school. Despoina's research interests include teaching educational robotics, STEM & STEAM Education, 21st century skills, gender differences in STEM, primary school teaching, Scratch programming, robotics competitions. Since October, Despoina has participated in the following conferences organized by Spanish institutions: VI Seminario Interuniversitario de Investigación en Tecnología Educativa (SIITE), Jornada d'Investigadors Predoctorals Interdisciplinària (JIPI) and III Congreso Virtual Internacional de Educación, Innovación y TIC. Despoina also participated in the following international conferences: 10th International Conference on Robotics in Education held in Vienna, Austria and 11th International Conference on Computer Supported Education held in Heraklion, Greece.
Project: An Educational Robotics training program for pre-service primary school teachers
Educational Robotics is gaining popularity among students and teachers in all educational fields and levels. To address the demand for learning and teaching educational robotics from a solid pedagogical background, it is important to further look into how students actually learn with educational robotics and how teachers are expected to teach educational robotics. Educational Robotics needs to be further examined as a pedagogical resource and so need the opportunities it offers for learning. In this doctoral thesis, the opportunities that Educational Robotics offers for interdisciplinary learning in the areas of STEM-STEAM Education and 21st century skills will be studied. Additionally, we are going to study how educators should make use of the robotics as a pedagogical resource that goes beyond the teaching of robotics as a subject and extends to all disciplines and skills of the curriculum. This doctoral thesis proposes to further look into the potential opportunities for learning and teaching educational robotics with an ultimate goal putting forward a university training course in the area of Educational Robotics teaching for pre-service primary school teachers.