Becoming a member
---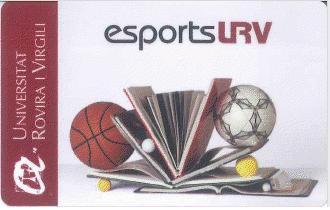 EsportsURV aims to promote physical activity and sport in our university, since this practice is undoubtedly necessary in order to have agood physical condition and enjoy a healthy life. Becoming a member just costs 21€ per academic year.
Our members can:
§ Start beginners' courses as diverse as roller skating, latin rhythms, jogging, capoeira, orienteering, golf, equestrianism, yoga, t'ai chi, tennis, paddle, badminton, archery, nautical activities, scuba diving;
§ Participate in the University Leagues of indoors football, seven-a-side football, paddle or basketball 3x3;
§ Compete in the University;
§ Practice physical activity and sport enjoying the advantages and discounts of the entities with agreements;
§ Enjoy outdoors activities such as kayaking or mountain biking;
§ Rent at a good price Campus Sescelades' Sportshall to play basketball, badminton, volleyball and indoors football.
Who can become a member?
Every member of the University Community: URV students and students on mobility programmes.

Teaching staff, administrative staff, and their relatives.
How can you become a member?
In order to obtain these advantages, you can register:
At any point during the course

, at the web page Inscripció socis EsportsURV (the payment must be made by credit card or bank transfer)

During online self-register

(automatrícula): in the economic details section, where is says: "AGREGAR SERVEIS", select "INCORPORAR SERVEI D'ESPORTS". Once you are registered, come to our office from 15th September to collect your membership card.
Collecting your membership card
Once you are registered you can collect your membership card from 15th September and start enjoying its advantages.