Moving away from home project
Letting rooms for a young people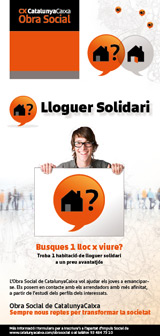 Obra Social of CatalunyaCaixa aims to provide lodging to university students at accessible prices. In this way:
Individuals or families that have a spare room in their house are able to rent it out and earn some extra income.

University students who are looking for accommodation are able to find an accessible solution that meets their needs.
For more information and to register on the programme, contact Obra Social of CatalunyaCaixa:
Information telephone: 902400973