HOW I HAVE TO DO THE REGISTRATION?
2.1. Have I to register in the secretariat or by internet?
A) New students:
The Secretariat have to say you the planning. However, if this planning does not suit your interest, you can send us yor request by contact.
B) URV student:
You have to do the registration through online registration by Internet.
On URV website you will find information that will support you when making process.
You can also tell us any doubt at contact.

2.2. How access to online registration?
Go to URV website: and click this icon:

.
From this page, chose the type of studies that corresponds you (Undergraduate, 1st & 2nd cyle, Master).
Will open a general information page and there is a link: Go to online registration.
Bear in mind that you will be able to access when starts your established period to do it.
Also you should check if you are accessing at the correct link as Undergraduate's student (from EHEA), 1st & 2nd cycle student (before EHEA), Master's student.
2.3. I cannot access to online registration, what can I do?
1. May be you ar not accessing correctly, so you need to check if your are in the right period established to do the registration, since the calendar registration:
2. May be your password need to be synchronized, so:
Try with the user's name and password you use to access to Digital Servicies of university (Intranet, E-mail, Virtual campus, E-magazines, etc.)
If these credentials returns you an authentification fail, synchronize your password in this link: https://idm.urv.cat/idm/user/
If you still can not access, contact to automatricula(ELIMINAR)@urv.cat
2.4. I do not remember my intranet password, what can I do?
Follow these steps:
1. Go to intranet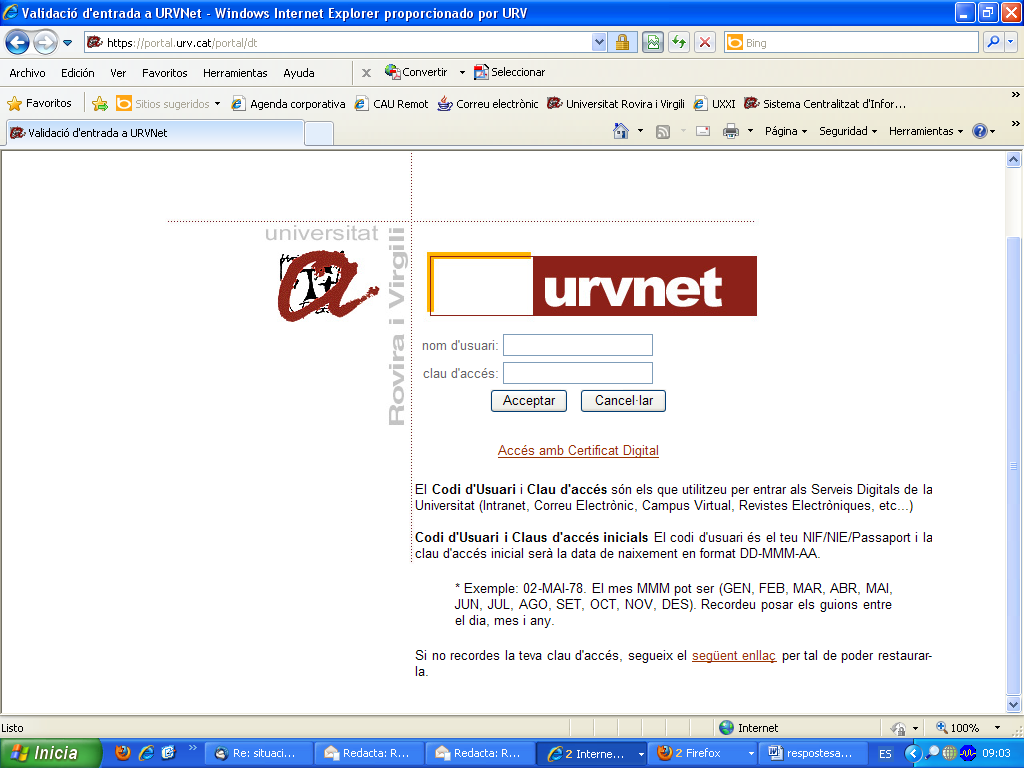 2. Go down to "Si no recordes la teva clau d'accés, segueix el següent enllaç per tal de poder restaurar-la" and click on "següent enllaç".

3. Chose option "Estudiants URV" from left menu:

4. Then, click on "2. No recordo la meva clau d'accés" or any other query you need.qualsevol altra consulta que puguis necessitar.

If despite of this you do not get it, send an e-mail to serveis.xarxa(ELIMINAR)@urv.cat.

2.5. How is the online registration?
On the web you can find many links that can may help you to do the registration.
You can see the "DEMO" about how to do the "Online registration" in the part "Formalization of Online registration", on the bottom of the page. It is available for every type of study: Undergraduate's students (from EHEA), Master's students. (see demo)
If you stil have doubts, contact.

2.6. What documents I should provide to register?
For new students, the documentation required changes depending on the way of acess to Undergraduate; you will find more details here.
If you are a student from second year and you have the documents updated, do not have to deliver any additional document. If you register for a type of registration that etitles a reduction (large family, disability, etc.) see your economic transcript (intranet) if the validity of the appropriate documentation is in force.

2.7. I have been "hanging" in the online registration, what should I do?
If you see this message, wait 30 minutes and try again. If not resolved, write an email to User support of online registration.
2.8. How do I know I have been registered correctly?
Upon completion of the registration process you must keep the registration receipt and print it as proof of it. In this registration receipt, see the subjects and credits registered, and the amount to pay as the method of payment you have chosen.
Also you can check, by URV intranet, your academic and economic transcript where you can see the subjects registered, the amount/s and the method of payment.
2.9. How can I print the registration? I have lost the registration receipt, how can I get one other?
You must do it at the end of online registration process, from the site. In case you have not saved a copy, you can enter again to

top rint a copy, within the 5 days after the registration, from 16h.
If you have not got a printer, you can do it at the Computer rooms of URV.
After this period, please contact your Secretariar or send an e-mail to User support of online registration.
2.10. I am awaiting reallocation, how I should register?
If you are awaiting reallocation to another public university and the University of Vic, you must notify the secretariat of the center before registration. Thus, you can register as a conditionally pending reallocation and only have to pay the applicable fees.

If before October 23rd you have been already reallocated, you must ask for the cancellation of the registration by reallocation, and the documents will be back.

If on October 23rd, you have not been reallocated yet, the secretariat change your registration passing to ordinary and deliver you the registration receipt with the price credit to pay.

If you are reallocated after October 23rd, you can also cancel the registration and and the documents will be back, but not the amount paid for the credits. If you have not paid this amount, you will have to do to apply for cancellation of registration.